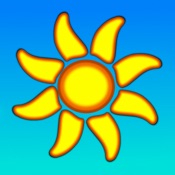 Requires iOS 6.1 or later. Compatible with iPhone, iPad, and iPod touch.
Best Anti-Stress Quotes!

Relax completely with the best anti-stress quotes!

Stress is a part of day to day living. We all experience stress & worry sometimes.

This helpful FREE app gives you many wise quotes on the topic of stress & anxiety.

I hope these quotes will inspire you to overcome your worries & to manage your stress better.

Get the wisdom you need to live more happily from now on.

App Features:

- Save your favorite anti-stress quotes!
- Share your favorite anti-stress quotes via Email!
- SMS your favorite anti-stress quotes!
- Post your favorite anti-stress quotes directly to Facebook!

Enjoy!

Great reviews from our loyal users:

"Calming, helps De-stress. Really helps me calm down and de-stress. I love this app! Definitely get it if you are under a lot of stress!"

"Simply wonderful quotes. This app helps me a lot. I often have anxiety, stress, or sadness attacks, and this app helped me understand what I'm going through. I seriously recommend this app. Get it. You won't be failed."

"Very helpful! These quotes are so inspirational and so very, very true:)"

"Nice pick-me-up! Words of wisdom from a diverse group of thinkers put things in perspective! This app is based on a simple concept in a cheerfully colorful format. Recommended download."

"Really works!!! Great app! Helped me just today. I was so angry and I got this app out and started reading these quotes and writing the ones that related down and did the trick. I'd still be angry/sad and wouldn't have apologized yet if I didn't have this app! Thank you!!!"

Legal Disclaimer: This application provides the information content on an 'as is' and 'as available' basis. No warranty is expressed or implied that the contents of this application are 100% accurate or up-to-date. In no event shall the creator of this application be liable in any manner for any direct, incidental, consequential, indirect or punitive damages arising out of your access, use or inability to use this application, or any errors or omissions in the information on this application. The creator of this application reserves the right at any time and from time to time to add, change, modify, update, or discontinue, temporarily or permanently, this application (or any part thereof) with or without notice. The creator of this application shall not be liable to you or to any third party for any addition, modification, suspension or discontinuance of this
Download Mobile App
Screenshots (use scrollbar)
---
Advertisement
Advertisements
Healthcare Mobile Apps
There's and app for that too. Check out our catalog of healthcare mobile apps.
Use the scroll bar to view full list.