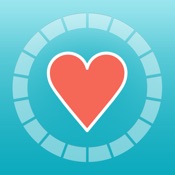 Requires iOS 8.0 or later. Compatible with iPhone, iPad, and iPod touch.
HeartStar is the easiest app for monitoring blood pressure. With optional sharing and reminders, Health app support, and custom goals, there's no better way to stay on top of your blood pressure.

MEASURE
• Automatically record blood pressure from compatible Bluetooth Smart blood pressure meters including A&D, Oregon Scientific, HoMedics, Samico, Pyle.
• Manually enter readings from any blood pressure monitor — no Bluetooth required.
• Add notes to help you remember what you were doing at the time.
• Note: the HeartStar app does not itself measure blood pressure — a separate blood pressure monitor is required — no app can accurately measure your blood pressure without a blood pressure cuff.

STAY MOTIVATED
• Create reminders to help you remember to measure your blood pressure on a regular basis.
• Set achievable goals tailored to your particular situation
• Get immediate, personalized feedback on your readings and progress.
• Collect HeartStar points! When you record a new measurement, you will be rewarded with points based on how that measurement helps you reach your goals. HeartStar points give you a new way to measure your overall progress. A steady increase in points means you're consistently recording your blood pressure and making good progress toward your goals. Challenge yourself to reach the next level!

GRAPH and ANALYZE
• Visualize patterns in your blood pressure history to help you understand your activity patterns.

SYNC and SHARE
• Sync readings to and from Apple's Health app
• Sync with HealthStar and take your experience to the next level:
• Keep all your measurement data in sync across multiple devices and apps
• Share your data in real-time with your healthcare provider (must be a HealthStar customer)
• Restore your data from HealthStar if you ever need a backup
• Share your history and reports with your family or physician: HeartStar makes it easy to communicate your results to the people you want. Plus, download your history so you always have a copy on hand.
• Import and export measurements

MULTI-USER
• Use HeartStar with the whole family — it's easy to add new users and switch between users.

HELP and FEEDBACK
• Help and customer support built into the app — just tap the Info button — we're here for you and love hearing from you.

Thank you for helping make HeartStar number
Download Mobile App
Screenshots (use scrollbar)
---
Advertisement
Advertisements
Healthcare Mobile Apps
There's and app for that too. Check out our catalog of healthcare mobile apps.
Use the scroll bar to view full list.