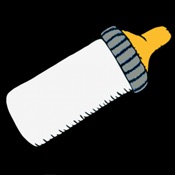 Requires iOS 7.0 or later. Compatible with iPhone, iPad, and iPod touch.
Baby Feeding Log is a simple and easy to use baby tracker for feedings, sleep, and diaper changes. You can easily see the last feeding time and what side was used.

Features
- Nursing timer
- Track bottle feedings with amount fed in ounces or milliliters
- Track sleep schedule and naps
- Email data in a spreadsheet format (csv) to yourself, doctor or caregiver
- Manually enter and data that you forgot to record
- View totals for each
Download Mobile App
Screenshots (use scrollbar)
---
Advertisement
Advertisements
Healthcare Mobile Apps
There's and app for that too. Check out our catalog of healthcare mobile apps.
Use the scroll bar to view full list.