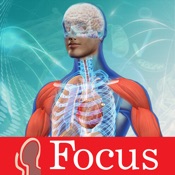 Requires iOS 6.0 or later. Compatible with iPhone, iPad, and iPod touch.
The Focus Animated Essential Atlas of Anatomy and Physiology includes a full chapter on:
-Cell – the Building block of Life
-Circulatory system
-Digestive & Excretory Systems
-Endocrine System
-Immune System
-Integumentary System
-Muscular System
-Nervous System
-Reproductive System
-Respiratory System
-Skeletal Systems

A sound knowledge of the structure and function of the human body in all of its intricacies is the foundation of medical education. The Focus Animated Essential Atlas of Anatomy and Physiology is one such tool that provides enormous ways to learn, review and teach the human anatomical systems and their physiology.

As a learning tool it is the first of its kind to provide in depth details about the systems covered through 3D animation of OVER 200 MINUTES. The systems are elucidated through very graphic, life-like animations. Such a learning tool has never been attempted before and is ideal for e-learning.

In this Animated Atlas the anatomy and physiology is organized according to the biological systems of the human body.

Important Features
-The powerful 3D animations accompanied by narration impacts the viewer instantaneously.

-Each system is dealt as a chapter which provides all the details required for understanding how that system functions.

-In-App purchase available for individual chapters

-The Atlas is user-friendly and allows for easy navigation to any section anytime.

-An excellent and MUST REFERENCE material for understanding human anatomy and physiology.

-It helps to better understand and communicate in-depth information about the human anatomical system

Learning about human systems, their anatomical positions and functions was never so easy!

USER Review:
Great app for SAT II BIO

Very pleased-by O.T student - I downloaded all the videos to this app which did cost £27 however that is the price of a book. This app is great if you prefer watching visual diagrams and videos rather then reading a text book. I am dyslexic and a visual learner myself so this is great. It is "basic" knowledge however it does go in depth. It's great if you want to remind yourself of the basics before going in depth. Very pleased!

*****T u This app is very good. Thank u.
*****Great apps, thank u very helpful in learning in the health world
*****Exllent It is extordinary and so benificial to medical students

*****This app is a great learning resource. It saves you the burden of always having to carry a heavy textbook. Its great for those in the medical profession as well as the layman wanting to understand their own body as a patient.

*****Good depth of biology. Excellent App!
*****This app, although expensive at £17 for all the videos in one go is excellent! Being involved in A&P for over 12 years as a Paramedic, I found these videos an excellent refresher and a good springboard into getting back into my studies where I can take it much deeper in something like Principles of Anatomy & Physiology by Tortora. The videos are Very clear and the explanations are fast flowing but very accurate! Watching it a second time, like with anything, you pick up a lot more! Definitely glad I bought the app, can watch it again in the future and also have it to teach my kids when they're older! Worth the money!!!
*****I'm a nursing student, watching these videos- the information just got transferred to my mind - feel confident now
Download Mobile App
Screenshots (use scrollbar)
---
Advertisement
Advertisements
Healthcare Mobile Apps
There's and app for that too. Check out our catalog of healthcare mobile apps.
Use the scroll bar to view full list.