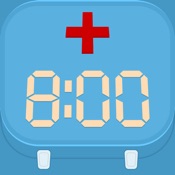 Requires iOS 8.0 or later. Compatible with iPhone, iPad, and iPod touch.
Let Pill Monitor remind you taking pills on time.

Pill Monitor is designed to manage any of your pills/medications, don't miss taking pills again because of so many things to do or bad memory. Taking pills on time and on same time everyday will be good for your health, Pill Monitor will remind you when it's time.

Key Features:

⁃ Schedule reminder of your pill.
⁃ Customer reminder time, repeat date and dosage of pills.
⁃ Remind you on time no matter if you are operating this app or not.
⁃ Choose to take, skip or snooze pills when it reminds.
⁃ Chose snooze time if you are not convenient to take pills.
⁃ Check your current reminders and upcoming reminders.
⁃ Eleven different reminder sounds for you to choose for each pill.
⁃ Comprehensive manage your pills' info: side effects, recommend dosage, units, form, rx number etc.
⁃ Add photos to each pill.
⁃ Keep, add, edit, or delete your pills taken history.
⁃ Add note to pill taken entries.
⁃ No internet connection needed.
⁃ Email pills taken logs to your Drs.
⁃ Migrate Data to full version by Settings module.
⁃ Supports Apple Watch version.
⁃ Supports Wifi backup & restore.
⁃ Supports Dropbox backup & restore.

If you have any question or suggestion, please send email to our support
Download Mobile App
Screenshots (use scrollbar)
---
Advertisement
Advertisements
Healthcare Mobile Apps
There's and app for that too. Check out our catalog of healthcare mobile apps.
Use the scroll bar to view full list.