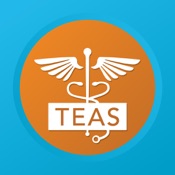 Requires iOS 9.0 or later. Compatible with iPhone, iPad, and iPod touch.
Dominate your ATI TEAS exam with this best selling app. Review 1,300+ practice questions, quizzes and tests anytime, anywhere—no internet connection required!

With ATI TEAS (Test of Essential Academic Skills) Mastery, you can study with practice questions at lunch, between classes or while waiting in line. This app uses proven test-taking and study strategies so that you'll feel confident and ready to go when test time arrives.

Begin your nursing school journey and download ATI TEAS Mastery!

Install the free version today and jump start your studying!
We have provided a limited free version of the app that you can try before deciding to upgrade. This version includes a limited amount of practice questions and basic progress metrics.

Upgrade to the Standard Version with a one time, in-app purchase that includes access to additional practice questions, tough quiz questions, must-know terminology and detailed progress metrics.

Get your best value by upgrading to the Premium Version with a one time, in-app purchase. The Premium Version includes lifetime access to:

• 1,300+ ATI exam-like practice questions with explanations and images
• 125+ quiz questions organized by category
• 400+ vocab flashcards
• Proven test-taking and study strategies to raise your score
• Immediate feedback to track your overall progress
• In-depth statistics that display your strengths and weaknesses

If you are about to take the ATI TEAS Exam, you will love this app.

We are nursing professionals, not a publishing company. We are here for you and love talking with students at each step of the journey to becoming a nurse.

Our Customer Success Team is available from 8am to 6pm, Monday - Friday (except on major holidays).
Please contact us if you have any questions, suggestions or comments about our pre nursing school study guide: nursing@hltcorp.com or call
Download Mobile App
Screenshots (use scrollbar)
---
Advertisement
Advertisements
Healthcare Mobile Apps
There's and app for that too. Check out our catalog of healthcare mobile apps.
Use the scroll bar to view full list.