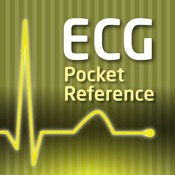 Requires iOS 3.2 or later. Compatible with iPhone, iPad, and iPod touch.
The ECG Pocket Reference offers healthcare professionals an interactive and enjoyable way to hone their skills in ECG interpretation.

Developed in association with the internationally respected clinician and educator Professor A John Camm (St George's Hospital, London, UK), the print version of the ECG Pocket Reference has made it into the hands of 50,000 European healthcare professionals to date. This brand new app allows the same valuable educational benefits to be gained via the convenience of the iPhone.

The ECG Pocket Reference features:

* A library of detailed ECG tracings, searchable by category or by thumbnail
* Expandable high-resolution images, allowing you to zoom in with exceptional clarity
* Clinical notes explaining the clinically relevant features of each ECG
* An interactive quiz to test healthcare professionals' interpretive
Download Mobile App
Screenshots (use scrollbar)
---
Advertisement
Advertisements
Healthcare Mobile Apps
There's and app for that too. Check out our catalog of healthcare mobile apps.
Use the scroll bar to view full list.