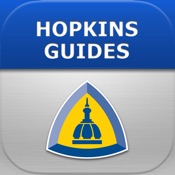 Requires iOS 7.0 or later. Compatible with iPhone, iPad, and iPod touch.
** The Official Johns Hopkins ABX, HIV, Diabetes and Psychiatry Guides with Monthly Updates **

Preview, Buy, or Sign In using this app.

FREE PREVIEW – View select topics to experience how the guides can help you find answers at the point of care.

-- Purchase any one of the guides or bundle all four to save 33%. --

ABOUT THE JOHNS HOPKINS GUIDES:
The official Johns Hopkins Guides deliver authoritative, need-to-know information that is easily accessed, promptly applied, and frequently updated to iOS devices and the web. All four of the guides are updated monthly and arranged in a way that lets clinicians easily browse or search for content.

ANTIBIOTIC (ABX) GUIDE
The official ABX Guide features the latest recommendations on the diagnosis and treatment of infectious diseases. Quick-read entries contain drug details, pathogens, management, vaccines, and more to support decisions at the point of care.

NEW! PSYCHIATRY GUIDE
Provides clinicians with quick-read recommendations for the diagnosis and treatment of psychiatric diseases at the point of care. Raise the standard of care and improve patient safety with frequently-updated content consistent with the DSM-5 diagnostic criteria. Ideal resource for residents, primary care physicians, psychiatrists, and other health care professionals.

DIABETES GUIDE
Contains the essential diagnosis, classification, and management information needed for diabetic care. Answer questions with recommendations for complications, drugs, and other treatments.

HIV GUIDE
Everything you need to know about HIV. Includes the most up-to-date guidance on diagnosis and management, featuring infection, complications, and all therapeutic options.

Features of John Hopkins Guides include:
• Monthly updates
• Guidance from Johns Hopkins Medicine experts
• PubMed reference links to medical literature
• Unlimited access to the official Johns Hopkins Guides website
• New - Create custom notes and highlights within entries
• Cross Links for fast navigation between resources (if you purchase the bundle)
• Universal Index Search to help find topics fast
• "Favorites" for bookmarking important entries

iTunes automatic renewal feature: Your subscription automatically renews unless auto-renew is turned off 24 hours prior to the conclusion of your current period. Your iTunes account will automatically be charged the current renewal rate within 24 hours prior to the end of the subscription period. This will ensure you receive all updates and continued web access for the following year. Each title costs $29.99 per year, or you can purchase the complete set for $79.99 per year.

Publisher: Johns Hopkins Medicine
Powered by: Unbound
Download Mobile App
Screenshots (use scrollbar)
---
Advertisement
Advertisements
Healthcare Mobile Apps
There's and app for that too. Check out our catalog of healthcare mobile apps.
Use the scroll bar to view full list.