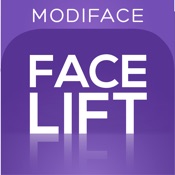 Requires iOS 7.0 or later. Compatible with iPhone, iPad, and iPod touch.
Virtually try on anti-aging and cosmetic surgery effects on your own front and side photo with FaceLift by ModiFace. This is the MOST COMPLETE cosmetic surgery visualization app, with over 20 effects that can be tried, including facelift, nose job, nose reshaping, skin changes, brow lift, lip augmentation, and much more.

Whether you want to remove wrinkles, reshape your nose or enhance your lips, this app does it all! You can see effects applied instantly to both the front and side view of your face! Once your virtual cosmetic surgery is complete, you can then save and share the makeover!

Facelift features the following:

-Ability to try effects on model or your own photo
-Simulated effects on your FRONT and SIDE photo
-Brow Lift
-Forehead smoothing
-Crow's Feet Removal
-Under eyes
-Eyelid Lift
-Nose Reshaping
-Cheek Lift
-Smile Line Softening
-Lip Enhancement
-Jaw Contouring
-Neck Lift
-Dark Spot Removal
-Texture evening
-Sharing via e-mail or ability to save
-Professional Licensing option for doctors and clinics (featuring a patient Catalog option)

This app is created by ModiFace, the leading facial visualization company who has developed the makeover apps for Vogue, Restylane, Brides, and
Download Mobile App
Screenshots (use scrollbar)
---
Advertisement
Advertisements
Healthcare Mobile Apps
There's and app for that too. Check out our catalog of healthcare mobile apps.
Use the scroll bar to view full list.