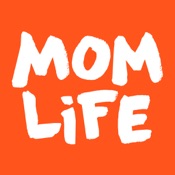 Requires iOS 9.0 or later. Compatible with iPhone, iPad, and iPod touch.
The app for modern moms. A community of moms who chat, laugh, brag, vent, cry and support each other. Find your kindred spirit at the same stage of parenting, from pregnancy and beyond. Track your pregnancy, share your photos, enter weekly contests and more!

Mom.life is real life, not the highlight reel. Be authentic, candid and real in this live moderated social network. No more mom shaming!

900,000 downloads and growing! Millions of unique community discussions, blog posts and media articles on parenting, health, relationships, lifestyle and everything else we need to simplify our hectic lives!

SERVICES:

# Pregnancy tracker

# Baby growth calendar

# Feeding tracker

# MomFinder

# Private and group chats


**Top 3 Social and Chat Apps 2015 by Digital Trends**

FEATURES

Find your mom squad wherever they are - your city, maternity stage or child's age.

Share tips and commiserate on everything from fertility and ovulation to pregnancy to best baby products, baby names and your child's milestones.

Get answers and parenting advice in real time from a supportive community of moms who've been there!

Live moderation keeps the app drama-free and safe.

Post your photos! Your bump photos, your pregnancy glow, milestones and celebrations from baby's first tooth or birthday to your toddler's first day at preschool. We're here for the journey.

Pregnancy milestones tracker, calculator and calendar with due date countdown.

Baby's first year development calendar, baby tracker and baby care tips.

Search top parenting content, popular blogs by moms you love, trending stories and celebrity news.

Join private local groups for playdates, mommy and me activities, neighborhood info and more.

One-click access into top parenting mini-apps to simplify your life.

Private chats, group chats and much more.

Thank you to our recent 5-star reviews from moms like you:

— You ladies are so supportive it's amazing - such awesome mommies. I don't know what I would do without this app during this long pregnancy lol — egates, NY

— I'm so over facebook! So happy to have found this application! All of you ladies are so amazing and I feel like I can speak my mind and have people relate — azmommy2016, AZ

— I so glad I found this app... Everyone on here is so nice, AWESOME MOTHERS! I don't feel alone anymore — mommy2b4, WI

— I'm so in love with this app. I have so much support from all these amazing mommas. The best part is that they never judge you .. — anig_b, CA

— Man when I post about my pregnancy on Facebook I get haters telling me to shut up.. But when I post on here you ladies are just freakin' awesome! I LOVE THIS APP — thebaileys, FL

— I stay on this app too much! Now, I'm like what is Facebook, Instagram, Snapchat, and etc??? — jace2016,
Download Mobile App
Screenshots (use scrollbar)
---
Advertisement
Advertisements
Healthcare Mobile Apps
There's and app for that too. Check out our catalog of healthcare mobile apps.
Use the scroll bar to view full list.